2018 SBA Alabama Small Business Person of the Year
Montgomery Moving Company Owner Named 2018 SBA Alabama Small Business Person of the Year
Owner Charles W. Underwood II of C & R Movers, LLC  Takes Top Honors,
Finalist for 2018 SBA National Small Business Person of the Year,
Celebration to Recognize All Local SBA Award Winners April 29-30
 Birmingham, AL: The U.S. Small Business Administration (SBA) 2018 Alabama Small Business Person of the Year is Charles W. Underwood II, Owner of C & R Movers, LLC, in Montgomery, Alabama.  Founded in 2014, C & R Movers provides nationwide moving and storage services for government and commercial customers.
C & R Movers began as a home-based business with one full-time and two part-time employees. After six months in business the company was able to purchase its first moving truck. The company has grown to sixteen employees and has secured over $3 million in government contract aw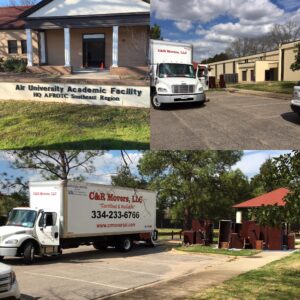 ards. Mr. Underwood has positioned his company as the only 8(a) "primary NAICS" moving company in the state of Alabama.
"Mr. Underwood's story is a great one," SBA Alabama District Director Tom Todt said. "He had some aggressive growth plans, kept his eye on the prize, and worked through a lot of adversity, with help from SBA Resource Partners."
The SBA Small Business Person of the Year award – part of National Small Business Week April 29-May 5, 2018 – recognizes small business owners who demonstrate staying power and substantiated history as an established business with at least three years of business operation. Winners must also show growth in net worth and business expansion, increase in jobs and sales, innovativeness of products or services, response to adversity and contributions to community-oriented projects.
C & R Movers is a proud partner of "Move for Hunger", a national non-profit organization that encourages relocating companies across the country to provide food donations to the needy within their community. On the day of a move, C & R Movers pack and take unwanted, non-perishable food items from their customer and deliver them to the local Montgomery Area Food Bank.
"National Small Business Week is a time to recognize the impact of small businesses in the Pacific Northwest by sharing their inspirational stories of success, resilience and determination," SBA Regional Administrator Jeremy Field said. "It's my honor to celebrate the entrepreneurs who use innovation to solve problems, create jobs and make a difference in our local communities."
Small Business Person of the Year winners from 50 states, the District of Columbia, Puerto Rico, and Guam will converge in Washington, D.C. April 29-30 when one of them will be selected as the National Small Business Person of the Year.
A celebration honoring local SBA winners from Alabama and the SBA Alabama District – which serves state of Alabama – will be during National Small Business Week April 29-May 5. Other SBA local awards that will be recognized at the celebration include Exporter of the Year.
Each year since 1963, the President has issued a proclamation calling for the celebration of National Small Business Week. SBA recognizes outstanding small business owners for their personal successes and contributions to our nation.