Rural Small Business Outreach
The Alabama SBDC works with entrepreneurs and small business owners in every city, town, village, and cross roads. The AL Department of Commerce – Rural Development Division has targeted 40 counties with a population under 50,000.
Rural small business owners play a key role in all facets of life within rural communities, but they often face different challenges than those in metropolitan areas, including geographic isolation, spotty broadband services, a lack of banking and healthcare services in the area, difficulties in hiring and retaining qualified workers and barriers in accessing capital to build their businesses.  The Alabama SBDC is working to level the playing field.
Rural Entrepreneurs
As a pathway to rural prosperity in Alabama, the Alabama SBDC provides resources, tools, education and support to build thriving, sustainable rural communities for generations to come.
The common denominator in all these counties is the rural business owner—the innovative and gutsy entrepreneur who lives beyond the hub of a major city. The Alabama SBDC is committed to creating a stronger economic environment for rural businesses and is working with local governments, chambers and community organizations to reach as many aspiring and existing entrepreneurs to help them start, grow and expand.
The Alabama SBDC has been intentional in our support of small rural businesses. We work to build sustainable rural economies by supporting small enterprises, services and projects. By improving rural prosperity, increasing opportunities for agriculture and expanding bio-economy, the SBDC is striving to create thriving communities where people want to live and raise families, and where children have a bright future.
The Alabama SBDC covers all 67 counties. In 2020, over 51% of our clients were located in rural areas (according to USDA's definition of rural).  This number is down from previous years, as the SBDC experienced a surge of new clients from urban areas requesting assistance with disaster programs.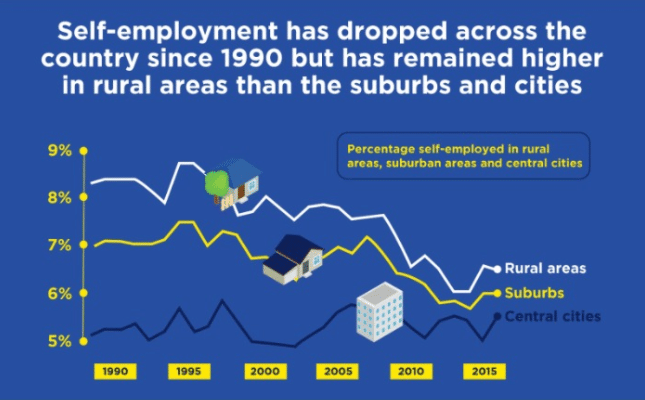 Alabama SBDC Network: Rural Outreach for Entrepreneurs
Did you know?
Rural entrepreneurs start businesses at higher rates than their urban counterparts and play a particularly vital role in rural America, creating roughly two-thirds of new jobs and supporting the economic and social wellbeing of their communities.  Small-town entrepreneurs benefit from a lower cost of living and less competition, but they may suffer from a limited customer and employee base.
The most important factors to consider when deciding where to locate your business are those factors that matter most to you and your business. What does your startup need to succeed? Will your business rely on people physically coming into your location, such as a restaurant?  The cost of renting space and the availability of a sufficient customer base will be big factors in your decision.  If you're starting a technology business that will serve clients all over the country remotely, the availability of skilled employees you can hire as your business grows will be a larger concern.
This program is presented by the Alabama Small Business Development Center (SBDC) at The University of Alabama and is funded in part by a Rural Business Development Grant from USDA Rural Development.  SBDC program information may be made available in languages other than English.  Arrangements for persons with disabilities and requests for alternative means of communication may be made by contacting the SBDC in advance at 1-877-825-7232.  This institution is an equal opportunity provider and employer.
In accordance with Federal civil rights law and U.S. Department of Agriculture (USDA) civil rights regulations and policies, the USDA, its Agencies, offices, and employees, and institutions participating in or administering USDA programs are prohibited from discriminating based on race, color, national origin, religion, sex, gender identity (including gender expression), sexual orientation, disability, age, marital status, family/parental status, income derived from a public assistance program, political beliefs, or reprisal or retaliation for prior civil rights activity, in any program or activity conducted or funded by USDA (not all bases apply to all programs). Remedies and complaint filing deadlines vary by program or incident.
Program information may be made available in languages other than English. Persons with disabilities who require alternative means of communication to obtain program information (e.g., Braille, large print, audiotape, American Sign Language) should contact the responsible Mission Area, agency, or staff office; the USDA TARGET Center at (202) 720-2600 (voice and TTY); or the Federal Relay Service at (800) 877- 8339.
To file a program discrimination complaint, a complainant should complete a Form AD- 3027, USDA Program Discrimination Complaint Form, which can be obtained online at https://www.ocio.usda.gov/document/ad-3027, from any USDA office, by calling (866) 632- 9992, or by writing a letter addressed to USDA. The letter must contain the complainant's name, address, telephone number, and a written description of the alleged discriminatory action in sufficient detail to inform the Assistant Secretary for Civil Rights (ASCR) about the nature and date of an alleged civil rights violation. The completed AD-3027 form or letter must be submitted to USDA by:
(1) Mail: U.S. Department of Agriculture
Office of the Assistant Secretary for Civil Rights
1400 lndependence Avenue,SW
Washington, D.C. 20250-941 O; or
(2) (2) Fax: (833) 256-1665 or (202) 690-7442; or
(3) (3) Email: program.intake@usda.gov USDA is an equal opportunity provider, employer, and lender