Rural Small Business Outreach
The Alabama SBDC works with entrepreneurs and small business owners in every city, town, village, and cross roads. The AL Department of Commerce – Rural Development Division has targeted 40 counties with a population under 50,000.
Rural small business owners play a key role in all facets of life within rural communities, but they often face different challenges than those in metropolitan areas, including geographic isolation, spotty broadband services, a lack of banking and healthcare services in the area, difficulties in hiring and retaining qualified workers and barriers in accessing capital to build their businesses.  The Alabama SBDC is working to level the playing field.
Rural Entrepreneurs
As a pathway to rural prosperity in Alabama, the Alabama SBDC provides resources, tools, education and support to build thriving, sustainable rural communities for generations to come.
The common denominator in all these counties is the rural business owner—the innovative and gutsy entrepreneur who lives beyond the hub of a major city. The Alabama SBDC is committed to creating a stronger economic environment for rural businesses and is working with local governments, chambers and community organizations to reach as many aspiring and existing entrepreneurs to help them start, grow and expand.
The Alabama SBDC has been intentional in our support of small rural businesses. We work to build sustainable rural economies by supporting small enterprises, services and projects. By improving rural prosperity, increasing opportunities for agriculture and expanding bio-economy, the SBDC is striving to create thriving communities where people want to live and raise families, and where children have a bright future.
The Alabama SBDC covers all 67 counties. In 2020, over 51% of our clients were located in rural areas (according to USDA's definition of rural).  This number is down from previous years, as the SBDC experienced a surge of new clients from urban areas requesting assistance with disaster programs.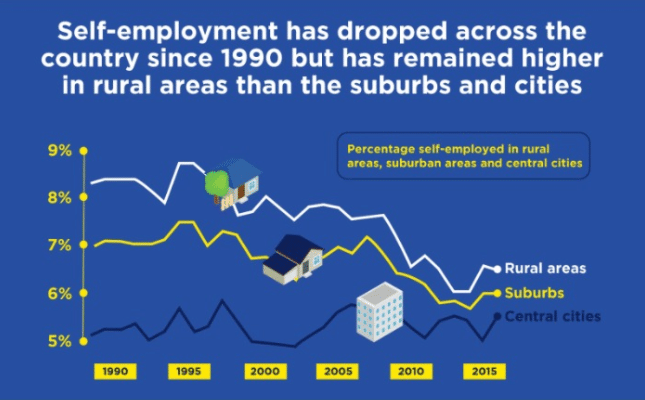 Alabama SBDC Network: Rural Outreach for Entrepreneurs
Did you know?
Rural entrepreneurs start businesses at higher rates than their urban counterparts and play a particularly vital role in rural America, creating roughly two-thirds of new jobs and supporting the economic and social wellbeing of their communities.  Small-town entrepreneurs benefit from a lower cost of living and less competition, but they may suffer from a limited customer and employee base.
The most important factors to consider when deciding where to locate your business are those factors that matter most to you and your business. What does your startup need to succeed? Will your business rely on people physically coming into your location, such as a restaurant?  The cost of renting space and the availability of a sufficient customer base will be big factors in your decision.  If you're starting a technology business that will serve clients all over the country remotely, the availability of skilled employees you can hire as your business grows will be a larger concern.
Meet our team of experts
Lindsay Bridges
Larkin Jones
Suzanne Darden
Brooke Maddox
Emily Moore
Heather Wright
Kyrel Buchanan
Susan Adams
Hilary Claybourne
Mary Jane Fleming
Michelle Kloske
Juliana Maddox
Betsy Baker
Leah Bolin
Juliana Bolivar
Pamela Harris
Yolanda Johnson
Sarah Rose
Andrea Mosley
Lindsay Frey
Magdaline Braxton
Mary Kirk
Arlena Fulling
Elaine Phillips
Carolyn Turner
Katherine Zobre
Tonya McGowan
Kimberly Hughston
Alabama: Grants to Start/Grow a Woman-Owned Business
While you may think that federal grants are just a click away, that really isn't the case.  It is true that federal dollars are available in the areas of science, medical research, education and technology development, but no such grants exist specifically for women-owned businesses. The federal government may fund projects that empower women, but such funding is often set aside for nonprofit corporations; for-profit businesses are not eligible.
We have listed below your best options from the private sector. Remember that these are very competitive grants; you may want to review the requirements and application materials with your Alabama SBDC Network business advisor.
Finally, don't forget to ask your SBDC business advisor about the Alabama Launchpad competition.  The goals of the Launchpad Competition are
Provide proof of concept grants and seed capital to advance early stage technologies.
Spotlight early-stage business ideas and companies that have considerable market potential.
Provide a vetting mechanism that helps local investors evaluate the market potential of early stage technologies and companies.
Connect new entrepreneurs with a network of key individuals and leaders across the state that can help them succeed.
Build a pipeline of early stage companies that will be become tomorrow's leading firms.
Increase collaboration among the participating universities.