2023 State Star: Juliana Bolivar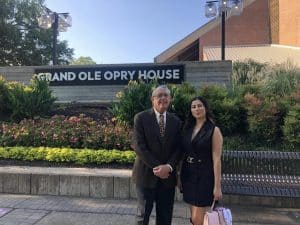 Juliana Bolivar, Center Director at the Alabama SBDC at Troy University, has been selected as Alabama's 2023 "State Star," the highest recognition for individual achievement, acknowledging exemplary performance that has a significant and positive impact on advancing small business efforts.
Each year, America's Small Business Development Centers celebrate the nationwide network's State Stars. These individuals are nominated by their peers and selected by their SBDC Network for their exemplary performance.
"We are so proud of Juliana and without question she is very deserving of this special honor," said Dr. Judson Edwards, Dean of Troy University's Sorrell College of Business. "Through my participation in various SBDC activities, I have seen first-hand how Juliana positively impacts the businesses and lives of our SBDC clients through her special ability to connect and balance caring mentorship with expert advisement. Juliana Bolivar, through her leadership and actions in support of small business success in Alabama, truly represents the core values of the Sorrell College of Business at Troy University — heart, humility, and hard work."
Bolivar became the center director for the Alabama SBDC at Troy University in January 2021, bringing to her role 10 years as a small business consultant. No stranger to business and entrepreneurship, Bolivar was raised by small business owners and had a front-row seat to the successes and failures inherent to running a business. She started her own business at the age of 16.
"I'm truly humbled to be recognized as the State Star," Bolivar said. "More than a personal achievement, this honor shines a light on the hard work and heart my team pours into everything they do. With the unwavering support of the SBDC network and TROY University, we've been able to make dreams come true. I'm fortunate to be in a position where every day, I get to help shape tools and programs that turn community aspirations into realities, fostering growth and prosperity."
Bolivar has become sought-after for her ability to come alongside business owners as they work to design and implement innovative solutions to drive start-up success and revenue growth. Her brand development strategies have gotten results for business owners in various industries from hospitality, restaurants, travel, athletics, to daycares, beauty, and personal branding.
"I am so thankful to have found Alabama SBDC at Troy," said Alicia Leverette, owner of Whitewater Creek Farm in Troy. "! I had so many questions about taking my business to the next level. Juliana Bolivar answered all my questions, explained the aspects I was uncertain about, and truly made the whole process very simple. I have been able to move forward with confidence as I grow my business."
Meg Stroh, of Big Brick Market in Brundidge, said she was grateful for Bolivar's guidance and advice.  "Her help is absolutely invaluable. As an inexperienced small business owner, I am so grateful for this program and its guidance," Stroh said.
Catelyn Blackmon of the Dreams Agency LLC in Troy agreed that the assistance provided by Bolivar was vital to building her business. "Juliana is so knowledgeable and kind. She made my process easy. She is the best," Blackmon said. "I have referred her to everyone I know looking to start and business or needs help with their establishment. The Alabama SBDC at Troy University Rocks!"
Last year, the Alabama SBDC at Troy University facilitated the creation of 28 new businesses, 52 jobs, and $1 million in growth capital for the entrepreneurs and small business owners in the ten-county Wiregrass region of southeast Alabama. Entrepreneurs can connect with Bolivar at https://www.troy.edu/sbdc or by phone at 334-808-6793.