Tim Baird had a vision to use his family farm for more than agriculture.  He started The Five B Kennels LLC to achieve this.  Tim, his wife Traci and their three daughters make up "The Five B's."  They breed and train Labradors that will ultimately be used as detection dogs (drugs, bombs, etc.)  It takes a year for the dogs to be fully trained.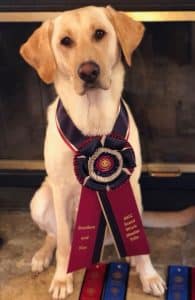 When the COVID-19 pandemic started, it took a toll on every aspect of The Five B Kennel's business.  With the government mandated shutdown, no dogs were being sold.  There were many dogs ready to move on to their new roles as detection dogs, but they had to wait.  Also, the dogs that were in training could not be fully trained because they could not be taken out in public to complete their environmental training.  There was no income coming in, but the dogs still had to be fed and taken care of and payroll had to be met.  This is when Tim decided to contact the SBDC at JSU for assistance with applying for grants.
The SBDC assisted Tim in applying for a grant from the Community Foundation of Northeast Alabama.  The business was awarded $3,750.  He then applied for several other grants but was denied due to the funds being quickly exhausted.  He also applied for the PPP but was denied due to those funds being exhausted as well.  Instead of giving up, Tim decided to apply for the COVID-19 EIDL.  The SBDC assisted him in applying for the EIDL just before the deadline.  The business was funded $290,300.
The Five B Kennels survived the COVID-19 pandemic through hard work, long hours and perseverance.  Now they are thriving.  When the pandemic started, there were 52 dogs.  Now they house 182 dogs and have 24 employees that care for and train the dogs.  When fully trained, the dogs are sold and sent to law enforcement agencies all over the United States and into Canada.  That is amazing when you think that this all starts in the small town of Piedmont, Alabama with the help of the SBDC at Jacksonville State University.  Tim stated that "I am so glad that the SBDC at JSU is just a phone call away."