Calhoun County: Small Biz Advocate of the Year
The Business Awards celebration at the Calhoun County Chamber of Commerce recognized 21 small businesses, non-profits and entrepreneurs for their job well done.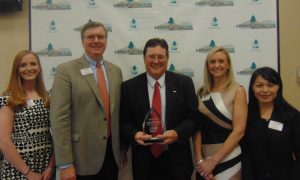 Congratulations to all of the small business nominees and winners, and to the Alabama SBDC team at Jacksonville State University.
The Larry K. Sylvester Small Business Advocate Award recognizes an individual or group that provides assistance and support to small businesses.  Since its beginning in 1981, the Jacksonville State University Small Business Development Center has contributed to the economic vitality of Alabama by helping generate sales and jobs for Alabama businesses. The SBDC is a resource partner with the U.S. Small Business Administration and a resource entrepreneurs can turn to for assistance, providing workshops, services and counseling. The 2017 Larry K. Sylvester Small Business Advocate Award goes to the JSU Small Business Development Center.