Local Joe's Trading Post: SBA Small Business Person of the Year
Jodie Ray Stanfield, owner of Local Joe's Trading Post in Rainbow City, has been named the 2017 Alabama Small Business Person of the Year.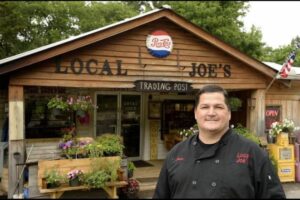 The letter of congratulations from SBA Administrator Linda McMahon to Stanfield says, in part, "your hard work, innovative ideas, and dedication to your employees and community have helped you build an outstanding business that has strengthened your state's economy. The SBA is pleased to celebrate your achievements and recognize your personal role in driving our nation's economic growth. Congratulations on a well-deserved honor."
Local Joe's Trading Post started in 2010 as a country store near Canoe Creek in Etowah County, and continues to be family-owned and operated by Jodie and Karen Stanfield and their family. The country store quickly grew into a leading catering company and restaurant and has since grown in size to employ more than 50, with locations in Southside and Alexandria Alabama, as well as Cave Springs, Georgia and the original location in Rainbow City. Each location carries many local products as well as the base menu of Local Joe's well known six smoked meat varieties, sides and the famous Local Joe's Sweet Tea.
Stanfield was nominated for the award by Ken Grissom, Director of the Alabama Small Business Development Center at Jacksonville State University.
Tom Todt, Alabama District Director, said, "This is a great story of small business success. It includes following a passion, having a dream and overcoming obstacles to achieve something significant and lasting. We are very proud of Jodie and his family, and congratulate them on this achievement."
State and territorial winners have been invited to Washington, D.C. April 30-May 1 to receive their awards during National Small Business Week festivities. Each year since 1963, the President has issued a proclamation declaring National Small Business Week. For a complete listing of national awardees and for information on National Small Business Week please visit www.sba.gov/nsbw.