Mission Multiplier: Innovation & Community Building
CEO Jamie Miller spent 10+ years working for a major IT consultancy in Washington, DC, but wanted to leave the 'madness" of Washington, DC; so that he could build a new business model that focused on the philosophy of innovation, people engagement, and community building. This idea spawned the creation of "Mission Multiplier". The genesis for the company name was to tie company profits directly to community giving, and to focus on hiring passionate and committed individuals that wanted to be at the forefront of innovation and cybersecurity.
Jamie first met with the center director of the Alabama SBDC at the University of Alabama in Huntsville (UAH) in July 2014, to discuss his new business idea and to seek assistance. Within less than 6 months of starting, MM won a $900,000 contract with the Tennessee Valley Authority (TVA) to design a cybersecurity continuous monitoring solution and risk scoring dashboard. With this contract secured, MM then pursued and won a sub-contract with a local Service Disabled Veteran Owned Small Business (SDVOSB) to provide cybersecurity on the NASA Marshall IT services contract – one of the "blue chip" cyber engagements in Huntsville – within 12 months of the first win with TVA. Next, MM successfully obtained HUBZone certification with the assistance of the team at UAH, which is in concert with the SBDC's focus to promote increased community vitality/goodwill for the Tennessee Valley.
This momentum and partnership led MM to codify their strong relationship with the local SDVOSB by obtaining a DoD-sponsored Mentor-Protégé agreement. MM team members briefed several high-ranking stakeholders at the Missile Defense Agency (MDA), and MDA was so impressed with MMs solutions that they helped MM to secure a position on the DoD Mentor-Protégé program. This program provided MM with access to over $750K in funding to improve the business. As a result of the program, MM staff received numerous certifications (e.g., CISSP, CEH, Security +), obtained the ISO 9001 quality management certification, and developed a state-of-the-art cyber lab.
MMs experience was so successful with the DoD Mentor-Protégé program, that when the SBA established their All Small Mentor-Program program (ASMPP) in 2016, MM quickly applied for and received a second Mentor-Protégé program with the local SDVOSB. Leveraging the benefits of this program, MM then created a Joint Venture company – Mission Innovate LLC – with a service-disabled veteran business. MM is currently pursuing over $100M in potential revenue with this JV.
Acknowledging that the field of cybersecurity is growing at an exponential rate, and that MM will grow exponentially, MM is working hard to differentiate themselves through a unique culture, which is rooted in the following factors: the opportunity to give back, strong staff benefits, and the opportunity to do innovative work.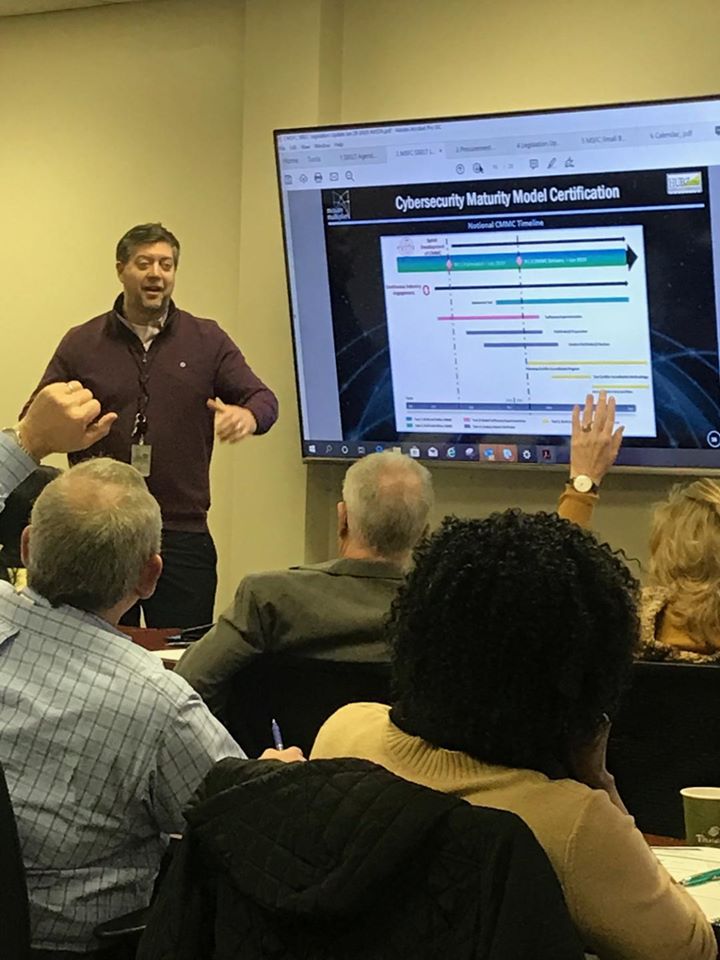 MM is seen as a leader in the Huntsville business community. MM has achieved this position of prominence and positive reputation through relentless pursuit of thought leadership, development in innovation, and involvement in the community. Demonstrating MM's  impact on the community, MM was awarded the 2019 Torch Award for Ethics by the Better Business Bureau, and were also named the 2019 Small Business of Year in the government contracting technology category by the Huntsville Madison County Chamber of Commerce.
MM's innovative business model is designed to give back to the community. For every hour an employee works, a percentage of the profit gets directed to a local charity of the employee's choice. In this way, each employee knows that they are not just working to support their careers and the business, but also that they are directly supporting the local community – and more importantly, an organization and cause that they are passionate about. In essence, employees are not working just for themselves or the company, they are working for something bigger than themselves, a cause that's important to them; each person and organization involved becomes a "mission multiplier". To date, MM has given over $30K to over 28 local charities. MM expects that their charitable giving will exponentially expand commensurate with the company's growth.
In April 2020, the UAH SBDC partnered with MM to host a cyber security webinar so business owners could learn more about how to protect their businesses from cyberthreats. With staff working from home and many businesses are using web-based payment systems, the threat of cyber-attacks has grown during the pandemic. The company developed a series of security tools and is offering free cyber security solutions to small businesses that have been struggling due to the COVID-19 pandemic. MM was featured in several local news stories regarding this effort. MM is truly a community leader. The reality is that every time MM wins a contract, not only do government and commercial clients win by getting access to innovative cybersecurity solutions, but the local community wins by getting access to increased funding, resources, and an improved quality of life.
"The Alabama SBDC at UAH was an invaluable resource that propelled Mission Multiplier from the start.  Helping us to develop our business plan, educating us on the government contracting process, and helping us to connect us with key community influencers, the UAH SBDC has been a constant cheerleader and supporter of ours.  We are truly grateful to the UAH SBDC and their passion to serve small businesses."

Jamie Miller, Founder/CEO