Contact Us
Alabama SBDC at Jacksonville State University
Mr. Ken Grissom, Director
700 Pelham Road North, Merrill Hall
Jacksonville, AL 36265
Tel: 256-782-5271
https://www.jsu.edu/sbdc/
To speak with an SBDC Business Advisor at JSU, please complete our online client registration form.  Our one-on-one advising services are confidential and offered at no charge to Alabama's entrepreneurs and small business owners, but we are required to collect basic demographic information for our funding partners.  All information is reported in aggregate form (# veteran-owned business, # women-owned businesses, etc.)
Your Local Small Business Experts:
Center Director
Ken Grissom
Ken Grissom has served multiple roles with the SBDC at JSU, including Government Procurement Specialist, Business Advisor, and since 2014 as the Center Director. Grissom earned his undergraduate and MBA at JSU. Prior to joining the SBDC in 2011, Ken had worked as a businessman, owning and operating restaurants and other commercial projects.
Business Advisor
Mary Kirk
Mary joined the SBDC at Jacksonville State University on October 1, 2020, as a Business Advisor, and has spent much of her time since helping clients work through Covid-19 related issues such as PPP and EIDL.  Outside of her disaster-assistance activities, Mary's focus is on helping companies with business planning and strategy.  Before joining the SBDC, she served as the Bursar of Jacksonville State University. Mary is a graduate of JSU, and is proud to be a JSU employee. She  received a BS in Business Administration, (Accounting and Finance) from JSU in 1986. Before joining the staff at JSU, Mary owned a retail business for 10 years, worked in public accounting and also worked in banking. "I feel that these years of varied experience helps me in assisting the clients of the SBDC at JSU."
Business Advisor
Darby Davis
Darby Davis is a Business Advisor for the Small Business Development Center at Jacksonville State University. Before joining the SBDC, she served as an Accountant for an Aerospace Department of Defense Contractor where she gained valuable experience in many areas of finance. In 2020 Darby graduated with a Master of Business Administration concentrating in Accounting from Jacksonville State University, and this was preceded with a Bachelor of Science in Accounting in 2018. In addition, Darby has experience in various administrative roles, event marketing, and data analysis that are beneficial in her role.
Project Accountant
Anna Fang
Anna has been employed at JSU since 2014. She serves as a Grants Administrator & Financial Analyst in the Small Business Development Center. Prior to her employment with SBDC at JSU, she worked in banking, and local government as a financial officer. She has over 19 years of expertise in the financial services industry. Anna has a Bachelor's degree in Business Administration – Computer Information Systems and a Master's degree in Accounting. Anna is a Certified Government Financial Manager (CGFM).
Procurement Manager, APEX Accelerator of Alabama
Lindsay Frey
After several years as a Procurement Specialist at the Alabama PTAC at JSU, Lindsay was hired as the statewide PTAC Program Manager at the University of Alabama.  Lindsay has offices in Birmingham and Jacksonville.  Before joining the PTAC, she spent two years in the Anniston Army Depot's Contracting Office, mainly assisting in the Office of Small Business Programs.  Lindsay also offers eleven years of experience in sales, marketing, and community outreach to assist her clients.  She ran her family's jewelry business for seven years and was a marketing manager/community outreach manager for a large chain of non-profit dental offices in the area for four years.  Lindsay has an undergrad in Marketing and her Masters in Public Administration, both from JSU.  She is a Leadership Calhoun County and Leadership Cleburne County graduate and received the Calhoun County Chamber's Small Business Advocate of the Year award in 2019.  Lindsay is married to her husband, Tom and has a daughter named Scarlett.
Coming soon: Alabama PTAC will be known as Alabama APEX Accelerator.  The APEX Accelerator is funded in part through a cooperative agreement with the Department of Defense.
Procurement Specialist APEX Accelerator of Alabama
Mazah Grimes
Mazah Grimes is a Government Procurement Specialist with the APEX Accelerator of Alabama Program based in Jacksonville State University and co-located in the Small Business Development Center. APEX Accelerators are managed by the Department of Defense Office of Small Business Programs and assist clients with grants, certifications, and government contract opportunities. As a 2022 graduate of Auburn University, Ms. Grimes obtained a Master of Public Administration and Master of Community Planning in addition to a Graduate Certificate in Economic Development. She received a Bachelor of Arts in Political Science and Communication with a concentration in Public Relations in 2020 from Jacksonville State University.
Success Stories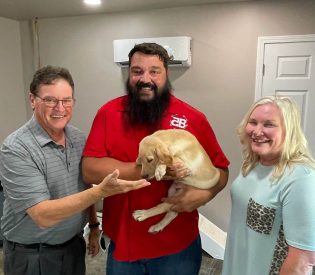 November 30, 2022
Tim Baird had a vision to use his family farm for more than agriculture.  He…
Registered clients that are working with one of our Business Advisors can use the form below to securely upload financial documents.  Never email sensitive financial documents. If you were referred by a lender, and are not already a client of the Alabama SBDC, please register here first.
Please ensure that all documents are properly labeled before uploading them.
For example, "ABC Manufacturing Balance Sheet 2020.pdf" is preferable to "Scan112233.pdf" or "Balance.pdf"
This is a secure upload, provided by Box. Box is ISO 27001 and ISO 27018 certified for its Information Security Management System and privacy protection as a PII processor, and has been granted an Authority to Operate and is listed on FedRAMP.gov as a FedRAMP compliant system at the moderate impact level. Box maintains a SOC 1 report based on the SSAE 18 standard, SOC 2 report based on the ISAE 3000 standard, and SOC 3 report based on TSP Section 100a from an independent third party.
Your data can only be accessed by the Capital Access Program. The CAP team will retain working files such as the global cash flow analysis in a secure system, and will delete personal financial information once the consulting engagement has concluded.
If this upload option does not work for you, please notify your Business Advisor.