Small Business Advocate Ends 32-year Career at JSU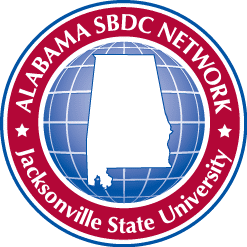 As retirement neared for Robbie Medders, and the actual moment arrived, she found it difficult to believe that she would be leaving an institution that she had been a part of for 32 years.
At the time of her recent retirement, Robbie was Acting Director of the Center for Economic Development and Business Research and the Small Business Development Center (SBDC) at Jacksonville State University. Prior to serving as acting director, Robbie was the SBDC Associate Director.
"It's been a wonderful place to work," said Robbie. "I feel very blessed to have spent my career at JSU. The employees, the administration and the entire JSU family are wonderful. Everyone is so supportive of each other."
She said every day that she went to her job was interesting.
"In the Small Business Development Center, we assist entrepreneurs, existing businesses and individuals who want to start their own small business," she said. "The center offers a variety of services to help them. It provides one-on-one counseling as well as seminars and workshops."
Robbie said that through the years she's felt a sense of satisfaction seeing many of their business clients flourish.
"We've seen many jobs created which have helped Alabama's economy," she said. "These businesses are the backbone of America's economy. What they do is so important to our country. I've watched businesses which came to the center 25 plus years ago grow. We're so proud of their success because it takes hard work and dedication to remain successful."


The Center for Economic Development offers a variety of services to Alabama's business, industry, and government sectors.
Robbie said the staff members at both centers are well trained and dedicated. She has no doubt that these devoted employees will continue to help businesses get their start and thrive.
"I felt like it was time for me to retire and do some things I've been looking forward to many years," she said. "I'm looking forward to what the future holds. I've put a lot of projects on hold because I haven't had time to do them. I am sure that many working women feel this way."
Robbie said she's looking forward to traveling with her husband Kyle, spending time with her grandchildren, reading, cooking, exercising and developing new interests.
One project she's put on hold is making scrapbooks for her grandchildren. That might take a while though, because she's going to have to take some scrap booking classes first.
Robbie said she's also looking forward to having some free time.
"I think it will be nice to just sit down and relax and not feel like I have so much to do and somewhere to be."
Robbie is a member of the American Business Women's Association and the Cheaha Book Club. She and Kyle are reserve seating host volunteers for the Knox Concert Series, and she is a member of the ticket committee. Robbie works with that association to secure corporate sponsors so that third-graders get to see "The Nutcracker" each December.
Robbie's is one of 10 children of the late Floyd and Sula (Parris) Boozer.
She and Kyle, Senior Vice President/Credit Manager at Fort McClellan Credit Union, have been married 41 years. They have two children. Their daughter Alicia Harrison and her husband Lawrence live in Birmingham. They have 5-year-old twins, Evie and Jonas. Alicia is a partner with the law firm Starnes Davis Florie LLP. Their son Chad is an airline pilot and is also an attorney at Condon & Forsyth LLP in New York.
Robbie graduated from Jacksonville High School. She has a bachelor's and an MBA from JSU.
Her brothers and sisters and their families gather at least twice a year, at Easter and Thanksgiving. Robbie said there's always plenty of delicious food.
"We have fabulous cooks in our family," said Robbie. "My mother was a wonderful cook. I make a lot of things from scratch because that's the way she cooked." "Kyle and I strive to eat healthy but we both love the southern food that we ate as children."
Robbie said she grew up in a happy, supportive, loving home.
"We were a typical Southern family," she said. "My mother and daddy had a garden every summer, so we always ate fresh vegetables and mother canned a lot of them."
Contact Margaret at pollya922@gmail.com.
Recipes
Grandmother Boozer's Chicken and Dumplings
In a very large pot, boil a whole chicken until done and let it cool. Save the broth. Remove chicken from bones and set aside In a bowl. Combine 4 cups of self-rising flour with 1/2 cup Crisco. Work the flour and Crisco together with your fingers until the mixture forms little balls.
Add a 1 1/2 cup of milk and work into dough. Knead well. Put freezer paper on counter top and secure with masking tape. Flour the paper and a rolling pin. Roll dough out very thin and cut with knife or pizza cutter (2×1 inch pieces). Bring broth to a rolling boil and add dumplings one at a time very quickly so they all cook evenly.
Use a spatula rather than a spoon to push the dumplings down and separate them (stirring with a spoon will break them up.)
Reduce the heat to about half (medium) and boil for about 20 minutes. Add the chicken back to the pot and let simmer for another 10 minutes. Add salt and pepper to taste.
Ground Chuck Casserole
2 lb. ground chuck
Bown meat until done. Drain and set aside.
Sauté the following in 2 tablespoons butter for 10 minutes:
1 cup chopped celery
1 cup chopped onion
1 bell pepper, chopped
1 teaspoon black pepper
1 teaspoon garlic salt
1 teaspoon seasoning salt
Combine beef, vegetables, 1 can of cream of mushroom soup, 2 small cans sliced water chestnuts, 1 pint sour cream and 1 – 12 oz. pkg. cooked small elbow macaroni. Mix all together. Pour into a Pyrex dish and top with grated mild cheddar cheese. Cook at 350 degrees for 40 minutes. This recipes makes a lot, so you may want to place into two dishes and freeze one.
Sweet Potato Casserole – from Cotton Country Cooking cookbook – 1972 edition
3 cups cook sweet potatoes (I favor baking and peeling)
1 cup sugar
½ cup butter
2 eggs, slightly beaten
1 teaspoon vanilla
1/3 cup milk
Combine all ingredients and pour into casserole.
Topping
1 cup brown sugar
½ cup flour
1/3 cup butter
1 cup pecans
Sprinkle topping over casserole and bake at 350 degrees for 25 minutes.
Pineapple Supreme Cake
1 yellow cake mix
3/4 cup oil
4 eggs
1 (11 ounce) can mandarin oranges, with juices
Icing
1 (20 ounce) cans crushed pineapple
1 (3 1/2 ounce) box instant vanilla pudding
1 (8 ounce) container Cool Whip
Directions Cake
Grease and flour 3 8-inch round cake pans. Mix cake mix, oil, eggs and mandarin oranges, including juices. Pour into prepared pans. Bake at 350 degrees for 30 minutes (check with toothpick) or until toothpick is clean. Do not overcook layers.
Icing
Drain Pineapple and save juice. Mix Cool Whip, instant pudding and pineapple in large mixing bowl. Spoon pineapple juice over each layer before icing. Spread icing over each layer and ice cake.
Read more: Anniston Star – Robbie Medders ends 32 year career at JSU