Ken Grissom Named 2013 Alabama State Star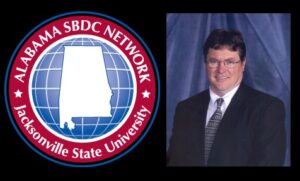 Ken Grissom, Procurement Counselor with the Small Business Development Center (SBDC) at Jacksonville State University (JSU), has been selected as the 2013 Alabama State Star. State Stars are exemplary performers who have made significant contributions to their state programs and have demonstrated a strong commitment to small business. Grissom will be recognized, along with other State Stars, at the Annual Conference of America's Small Business Development Ce
nter Network in Orlando, FL, in September. The Annual Conference brings together over 1,400 SBDC professionals, trainers, consultants, management, and administrative personnel.
Grissom holds a BS degree in Business Administration from JSU and is pursuing an MBA. He has worked at the SBDC since 2011. Grissom states, "I am honored to be a part of the JSU SBDC team and work with Alabama's small business community."  Robbie Medders, Acting Director of the JSU Center for Economic Development and SBDC, states, "Ken is an outstanding business counselor and is committed to quality assistance in serving our clients. He approaches his work with a positive attitude toward goal achievement and completing assignments. This recognition is a distinguished honor for Ken and the JSU SBDC."
"The SBDC State Star Award has a long tradition in our industry as the top award for recognizing an individual's outstanding performance and contribution to our mission of furthering small business success and job creation in Alabama. Before joining the SBDC center at JSU, Ken ran his own small business and has leveraged that real world experience to become a highly effective counselor and coach to small business, he is most deserving", Bill Cummins, Executive State Director, Alabama SBDC Network.