Alabama SBDC at South Alabama
Contact Us
Mr. Melvin Washington, Director
358 St Louis St,
Mobile, AL 36602
Tel: 877-825-7232
www.southalabama.edu/sbdc
To speak with an SBDC Business Advisor in South Alabama, please complete our online client registration form.  Our one-on-one advising services are confidential and offered at no charge to Alabama's entrepreneurs and small business owners, but we are required to collect basic demographic information for our funding partners.  All information is reported in aggregate form (# veteran-owned business, # women-owned businesses, etc.)
Your Local Small Business Experts:
Regional Manager
Mel Washington
Mel is the Regional Manager of the Alabama SBDC in South Alabama, where he provides one on one confidential counseling to aspiring and existing small business owners in six counties in South Alabama. He is also the former Executive Director & CEO of Project Enterprise, a micro-lending organization supporting entrepreneurs and small businesses in under-resourced communities in New York City.
Mr. Washington holds an undergraduate degree in Electrical Engineering from Howard University, a Masters in Business Administration from New York University and completed the Administration Executive Education Program at Wharton School of Business. He has held executive level positions in Finance, Operations, and Strategy and Planning in the financial services and telecommunications sectors. His career includes successful stints at top tier firms including AT&T, Salomon Brothers, Morgan Stanley, JP Morgan Chase, and Citibank.
Mr. Washington has demonstrated a strong commitment to community and economic development throughout his career, and has served on the Boards of several organizations in Mobile and the New York City Area. He is the former Chairman and current member of the Board of Directors for Prichard Preparatory School; member of the Community Development Advisory Council for Hancock Whitney Bank; member of the Board of Directors for Innovation Portal; member of the Advisory Board for the Melton Center for Entrepreneurship and Innovation at USA; member of the Board of Directors for The Mobile Ballet; former member of the Board of Directors for the Boys and Girls Club of South Alabama; former Vice President of the Board of Mobile Baykeeper; and formerly on the Boards of LiftFund in Austin Texas, the Gulf Coast Angel Network, and the History Museum of Mobile. He was also a judge for Alabama Launchpad 2013 & 2015, a state-wide competition that offers up to $250,000 to high-growth and innovative startups across Alabama.
Mr. Washington is also active in several entrepreneur programs at the University of South Alabama: Teaching Team Member for the National Science Foundation's Innovation Corps (I-Corps); Minority Business Accelerator Program; and Minority Business Development Program. In addition, he is an Expert in Residence at Innovation Portal, a non-profit incubator and innovation hub accelerating startup growth in Southwest Alabama and the central Gulf Coast.
Business Advisor
Yolanda 'Yo' Johnson
Yolanda "Yo" Johnson, Business Advisor, started with the Alabama SBDC program in 1989 as the first procurement specialist in West Alabama then had a couple year stint as Director of the center located at the University of West Alabama. She returned to the network as a Business Advisor in 2014 after gaining extensive experience in non-profit management, business development and leadership in the architectural, engineering and construction industries, and after starting her own leadership consulting company. Yo holds undergraduate degree in Business Management from Auburn University, master's degree in Business Education from University of West Alabama and extensive post graduate work in Economic Development from Auburn University, University of Oklahoma and University of Missouri-Kansas City. She is a 6th generation native to Coastal Alabama and is passionate about her community.
Procurement Specialist Alabama PTAC
Gerald Dunlop
Gerald Dunlop is the Procurement Specialist for an eight-county area in southwest Alabama. He assists businesses with registering in the System for Award Management (SAM) and applying for the 8(a) Business Development Program, HUBZone certification, Woman-Owned Small Business certification, as well as other certifications. He also assists clients with locating bid opportunities and preparing bid proposals. He is a Certified Procurement Professional and a Level III Certified Contracting Assistance Specialist with the Association of Procurement Technical Assistance Centers, the professional organization of procurement technical assistance programs. He is also a VA Certification Counselor and a Certified Business Advisor with ASBDC. He has been with the Network since 1999. Prior to that, he was a journalist for many years. He has an MBA in management and a BA in journalism.
Additional meeting locations available at:
Innovation Portal
358 St Louis St,
Mobile, AL 36602
By appointment only.
UA GulfQuest
155 S Water St,
Mobile, AL 36602
By appointment only.
Success Stories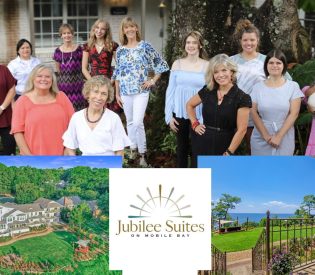 Dana Maloney, was referred to the SBDC in 2017 by her middle son, Dylan Maloney…
Registered clients that are working with one of our Business Advisors can use the form below to securely upload financial documents.  Never email sensitive financial documents. If you were referred by a lender, and are not already a client of the Alabama SBDC, please register here first.
Please ensure that all documents are properly labeled before uploading them.
For example, "ABC Manufacturing Balance Sheet 2020.pdf" is preferable to "Scan112233.pdf" or "Balance.pdf"
This is a secure upload, provided by Box. Box is ISO 27001 and ISO 27018 certified for its Information Security Management System and privacy protection as a PII processor, and has been granted an Authority to Operate and is listed on FedRAMP.gov as a FedRAMP compliant system at the moderate impact level. Box maintains a SOC 1 report based on the SSAE 18 standard, SOC 2 report based on the ISAE 3000 standard, and SOC 3 report based on TSP Section 100a from an independent third party.
Your data can only be accessed by the Capital Access Program. The CAP team will retain working files such as the global cash flow analysis in a secure system, and will delete personal financial information once the consulting engagement has concluded.
If this upload option does not work for you, please notify your Business Advisor.